To book any of our poets or purchase their books, please contact them directly via their website or email. Thank You!

MARY EMEJI – POET LAUREATE/ FOUNDER
Mary Emeji is a talented lady poet and lawyer, living in Luton, Bedfordshire. She holds an LLB(Hons) Law degree and LLM in Commercial Law (with Distinction), both from University of Bedfordshire. Aside from her legal career, Mary has always had an ardent passion for poetry and began writing poems whilst high school; often reciting them in open events. Her first book 'THE BOND OF LOVE' was published in 2009, and other books have followed since: THE LOVE OF GOD (2010), 'ROYAL LUMINOSITY (2011), TIMELESS DATE (2012) and FUNDAMENTALITY (2013) . Mary has performed at various poetry events in Luton, Wokingham, London, and Bedford.
Mary was the featured poet in the Luton 'LIFE' magazine (February 2011 issue). She presented her very first book THE BOND OF LOVE to the Deputy Mayor of Luton - Cllr. Mohammed Farooq at the summer festival in August 2010. In October 2010, she was the featured Poet of Luton for the Black History Month, by the Luton Library/ Luton Culture. Mary has received Royal Acknowledgements from Her Majesty Queen Elizabeth, in respect of her four books 'ROYAL LUMINOSITY' (2011- dedicated to the wedding of the Duke and Duchess of Cambridge), 'TIMELESS DATE' (2012- co-written with William Shakespeare), 'FUNDAMENTALITY' and 'PULCHRITUDE' in 2014. Immensely encouraged by this, she continues to work hard at what she loves doing best - poetry!

In June 2011, Mary founded the Luton Poetry Society, with the fundamental purpose of promoting fellow poets, and motivating upcoming ones. As the Motto goes "Bringing Poetry To Life", this group aims to extend the vibes of poetry to the lengths and breadths of Luton town, through poetry events. All who love to write, read or listen to poetry are very much welcome to join!
LUTON POET LAUREATE
Mary was appointed the Poet Laureate of Luton by the Mayor Cllr. Syd Knight, which was announced at the Luton Poetry Festival on 1st September 2012. Greatly satisfied by Mary's countless efforts to encourage poetry in Luton, the Mayor said of her, "I am very impressed with the amount of work Mary has done in a relatively short time to promote the work of poetry in Luton. We do need to raise the profile of our poets in Luton, and she has done a lot to make that happen." Mary describes her new appointment as 'a thrill' as she stated "I've always found joy in writing and reading poetry, which led to my creating a forum whereby Luton poets can come together and share their poems. I am thrilled at being made Poet Laureate, and will continue to do my best to promote poetry readings throughout Luton." She was one of the guest speakers at the annual Women's Day event hosted by the Mayoress of Luton at the Town Hall in October 2012, and has visited other branch libraries in the town to promote and encourage poetry. She held a poetry session at the University of Bedfordshire (where she studied), meeting with literary students and giving them a forum to perform their poems/ writings in October 2012.
On National Poetry Day (4th October 2012), Mary was the Resident Poet on BBC Three Counties Radio; talking about poetry, reading her poems and taking calls from local poets. Her poem 'Simplicity' was short-listed for the National Poetry Anthology Competition 2012 (United Press) and published in the Anthology 'A GATHERING OF MINDS'.  Her other poem 'The Angel Star' won the National Poetry Day Competition run by the Bedfordshire Libraries in October 2012. She was featured as Poet Laureate in 'Luton At Large' magazine in November 2012, in the University of Bedfordshire News in December 2012 ( http://www.beds.ac.uk/news/2012/december/graduate-appointed-poet-laureate-of-luton), and in Luton 'LIFE' magazine in January 2013. Her latest features appear in 'Luton News' - March 2014, Luton At Large magazine - March 2014, University of Bedfordshire News - March 2014, and Herald and Post Newspaper - April 2014. (Please visit the 'PRESS' page to read more)
Mary was one of the guest speakers chosen by the Mayoress of Luton, Mrs. Imeda Knight for the International Women's Day event on 8th March 2013, at the Luton Borough Council Chambers, and Her Majesty's Lord-Lieutenant for Bedfordshire - HELEN NELLIS greatly commended her poetry work. Already featured in the religious poetry anthology 'I BELIEVE' (United Press 2013), Mary was chosen by United Press as one of the top ten poets in the UK, and published in the anthology 'TEN OF THE BEST' 2013. She was also featured as the Resident Poet Laureate on BBC Three Counties Radio on 14th April 2013 to celebrate the National Poetry Month. She partook in the task of writing a poem a day for the whole month!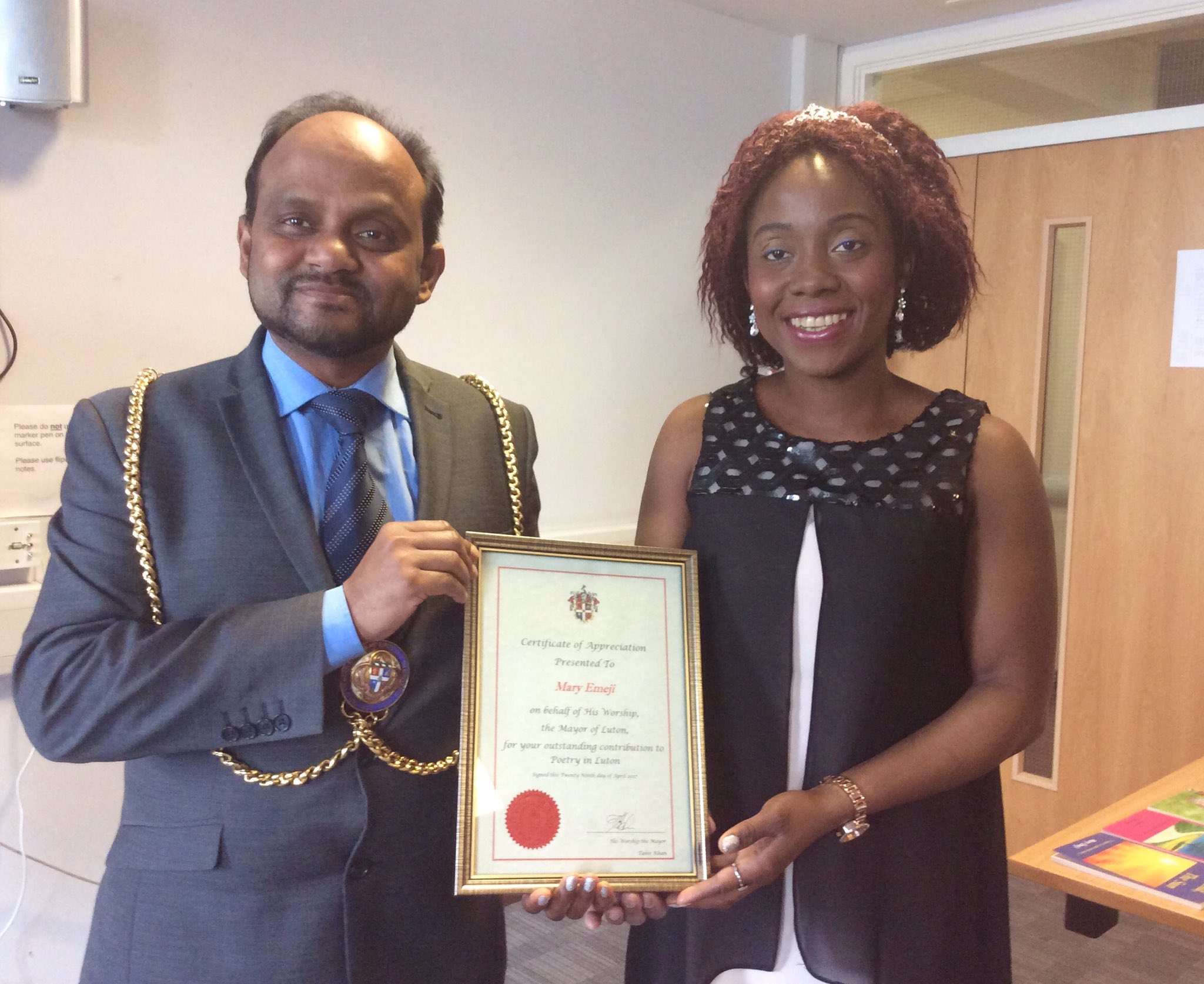 Mary received a mayoral award for her 'outstanding contribution to poetry in Luton' in April 2017. She is pictured with the then Mayor of Luton Cllr. Tahir Khan, who had been the special guest at the launch of Mary's book 'My Friend The Sun' available to buy from the 'WEB STORE' page above.
BOOKS:
THE BOND OF LOVE (2009): A collection of poems on love, friendship and commitment; shedding light on the feelings, happiness, and challenges of true love. Bursting with romantic vibes, these poems would tug at the reader's heartstrings, as they drift off to the realm of affection.

THE LOVE OF GOD (2010): A collection of inspirational poems on God's love for all mankind; love so strong, ever constant and infinitely vast. Filled with spiritual inspiration, this book portrays the immense joy and peace that flows from divine friendship with God; a much needed solace amidst the troubles and uncertainties of this present life. This book is filled with words of vibrant faith; reflecting Mary's spiritual beliefs and her roles as a Lay Reader and Eucharistic Minister in 'Our Lady, Help of Christians Church' (Luton). The book received a foreword from Bishop Peter Doyle, Catholic Bishop of Northampton diocese.

ROYAL LUMINOSITY (2011): Co-published with English poet Alan Rainer, for Prince William and Princess Catherine (on their wedding - 29th April 2011). This collection of poems reflects the themes of royal love, marriage, happiness, contemplation and the deep realities of life. This book received a royal acknowledgment from Her Majesty The Queen, and from the Duke and Duchess of Cambridge. 
TIMELESS DATE (2012): Co-written with the great William Shakespeare!

Witness a time travel in words, as Mary connects her poems with William's in a timeless friendship spanning across four centuries......beneath the ageless sky. Written in both old and new English. Discover the mind of William, through the mind of Mary (his mother's namesake).
FUNDAMENTALITY (2013) - "Finding you in you"

This book brings out the best of YOU - sustaining through seasons, elevating in awareness and most importantly sufficient through tides.
"The voice of Mary Emeji is one of the authentic poet. This authenticity of who and what we are and the beautiful spaces in between of just simply being, envelops the reader like a gentle stream and also like a cascading waterfall. Mary's new collection of poems Fundamentality explores our essential self; it unveils the essential us, the other us, not defined by objects of desire and the perpetual power of attainment, but realised by being our true self." ---Hilda Morley, Poet
PULCHRITUDE (2014)  - "Everything beautiful and true..."
An in-depth look at life, nature, the world around us...and our perception of these. Look again, and be swayed in the beauty of so many things we overlook. Life is beauty, life is truth.
"Inspired writing needs little praise but these are poems of coherence and perception, which show an understanding of life and faith. Mary's dynamic approach to life breathes through every line and artwork, and there is a cordial generosity in her appraisal of the rich tapestry of homespun life. She even takes us on a 'galaxy walk'."---Alan Rainer, Poet, Editor
MY FRIEND THE SUN (2016)  - "Nature is yours and mine..."
A tribute to the Sun in bright, warm poems that elevate and scintillate. The Sun shines through every page shedding new light on dark situations and giving energy to the weary mind. There is sunshine on magical gardens, a date with the Sun at Luton's Stockwood Park, the breeze of flowers confetti, and glistening sunshine that dispels gloom. Sunshine to enlighten and enliven, to nourish and flourish, to daze and amaze, to dazzle and bedazzle. These heartfelt poems well-accompanied by lustrous paintings create an enchanting luminosity that lingers way after the book closes...and the dreams begin!
Poetry Anthologies:
A GATHERING OF MINDS (United Press - 2012)
I BELIEVE (United Press 2013)
TOP TEN POETS OF 2013 (United Press)
For copies, please email poshmary1@yahoo.com or pick up one during our meetings or at Mary's events (view diary). 
All Mary's books can be purchased from our
'Web Store'
or by email if not listed at the Web Store. Also on Amazon and many online retailers, and for rent at libraries. 
Mary 's official Facebook page is http://www.facebook.com/pages/Mary-Emeji-Poet/191167304227723
 HANEEFAH MUHAMMAD
Haneefah is an author and recently published her book MY SOUL PURPOSE.   It is a collection of her work about living, loving and learning on her journey through life.   Haneefah's 'soul purpose' is to be the best version of herself and to help individuals and groups she encounters to also have this experience.  She is also a performance poet and is part of a local poetry collective.   Haneefah has performed in various places including Northants, London and Brighton.
Haneefah has also written THE A-Z OF STRESS SOLUTIONS that was published in 2014.  The book contains practical and effective advice for managing stress in healthy ways.   
Haneefah has worked on projects using poems she has written. She is currently contributing to local events highlighting the role of mothers/carers and the work of creative artists in Luton.
Haneefah is an Empowerment Coach and works with individuals and with groups, supporting them to address issues around topics including feeling stuck, career uncertainty, motivation, self-confidence and resiliency.  She is currently working on plans for a retreat for women who want to reclaim by connecting with their true self.
Haneefah has lived in Luton for nearly 20 years.   She enjoys being part of the rich and diverse nature of local community life.  She loves writing, music, going to the cinema and watching live shows.   She also loves travelling to places within the UK and abroad.
Haneefah Muhammad  BSc (Hon), Author, Empowerment Coach
Contact Info:
 FB:   Haneefah Muhammad
Instagram:  soulforce100
Website:  www.unmaskyourinnerqueenretreat.com
Blog:  www.goodforthesoul.blog (poetry blog)
Emails:  xselens@hotmail.co.uk;  goodforthesoul3@gmail.com
J.S. WATTS - POET
Although she has family connections to Luton, J.S.Watts was born and grew up in North West London. She now lives and writes in East Anglia. In between, she read English at Somerville College, Oxford and spent many years working in the education sector. She remains committed to the ideals of further and higher education despite governments of assorted political persuasions trying to demolish them.
Her poetry, short stories and book reviews appear in a variety of publications in Britain, Canada, Australia and the States. In particular, her poetry has appeared in Acumen, Brittle Star, Envoi, Orbis and The Journal and has been broadcast on Independent Radio. Her short fiction has featured on BBC Radio. She is Poetry Reviews Editor for Open Wide Magazine and, until recently, was Poetry Editor for Ethereal Tales. Her debut poetry collection, Cats and Other Myths  (ISBN 9781907276644) is published by Lapwing Publications. It is a work that finds contemporary relevance in the echoes of myth and legend and the mythic in the day to day world around us. In May 2011 it was chosen as Poetry Kit Book of the Month and has been variously described as "a magnificent collection", "full of wonder" and "richly alive".
For further details, please see J.S.Watts' website at
http://www.jswatts.co.uk/
or her Facebook page at
www.facebook.com/J.S.Watts.page
.
BOOKS:
CATS AND OTHER MYTHS (2011) (Lapwing Publications - ISBN 9781907276644).
A poetry collection that finds contemporary relevance in the echoes of myth and legend and the mythic in the day to day world around us.
Cats and Other Myths
is available from the author's website, Lapwing Publications' website, Amazon and selected book shops. See
http://www.jswatts.co.uk/
for more details.
SONGS OF STEELYARD SUE (Lapwing Publications 2012 - ISBN: 9781909252028)
An SF-themed poetry sequence, 'Songs of Steelyard Sue' narrates the life and times of a future-world everyman, or, more accurately, every robot, the titular Steelyard Sue, living out her existence on an Earth turned rubbish heap.
                   "Lays of raw creation
                     Tales of bright decay."
Like life, the poems are a mixture of the funny and the sad, the raucous and contemplative, light and dark. Readers of Mslexia will already be familiar with one of the poems, "Steelyard Sue Plants a Garden", but there are many others to intrigue, entertain and maybe make you pause to think.
"surreal and funny poems" said 'somesuchlike blog'.
'Songs of Steelyard Sue' is available to buy from selected bookstores, the poet's website http://www.jswatts.co.uk/ , Lapwing Publications and Amazon.
A DARKER MOON

A Darker Moon is a dark, psychological fantasy. A mythical tale of light and shadow and the unlit places where it is best not to shine even the dimmest light.

Abe Finchley is a damaged man, an orphan with no roots and no family ties. When he finally meets the woman he has been looking for all his life, he finds not just love and passion, but a dark and violent family history that spans generations into humanity's deepest past.
Eve is the woman of his dreams; but dream is just another word for nightmare, and Abe knows all about those. Amidst a confused web of lies and secrets, Abe is trying to discover who he is and make sense of what he may become. More than just his future and his new-found love is at stake. When he discovers that he has a brother, a man bound by divine destiny to kill him, Abe is going to have to make a difficult choice. A choice that might redeem the world. A choice that just might destroy it.
A Darker Moon, a novel by J.S.Watts (ISBN 978-0615706528) is published by Vagabondage Press and is available as an e-book and a trade paperback from the usual outlets including Amazon.co.uk 

FRANCIS MCDONNELL - POET
 AUTOBIOGRAPHY:
I was born in London but have lived in Luton for most of my life, going to Stockwood High School and Luton Sixth Form College before going to the University of Bath for a BSc in Mathematics. Subsequent activity includes 3.5 years working as a Mathematician in Cheltenham before studying for a PhD in Operational Research at Loughborough University. My main activity at present is as a Mathematician. Interests include swimming and art as well as, of course, poetry.
 I started writing poems more frequently and became an active member of Luton Poetry Society in 2013. I enjoy writing and performing poetry which almost invariably rhymes, has a matching number of syllables and sometimes even has, in parts, a tolerable meter. I often try to make my poems entertaining and my favourite poet is John Betjeman. I think there are a number of important connections between mathematics and poetry and have even performed a poem at a Luton Poetry Society meeting describing some of them. Work on a poetry collection is under way.
I can be reached on my twitter account @DrFMCD.
BOOK: THE ALIEN THAT CAME TO DINNER (2015)
ALAN RAINER – POET
Alan Rainer was born in Zimbabwe, schooled at Springvale and Peterhouse. He qualified as a Chartered Accountant, and worked with Coopers and Lybrand in France and Holland. He passed an MA in Religious Studies at the Institute of Education. He is concluding a Doctorate at Derby University in Religious Care; a study of four Faith communities and how they live out their Scriptures.
BOOKS:
AWARE OF HOLINESS (2006): Collection of poems that reflect silent meditations on spirituality; available on LULU.com.
IN SEARCH OF THE DIVINE (2007): Collection of poems that centre on the search for God in daily life. This book was launched at Westminster Abbey, Poets Corner on his birthday 11th July 2007.

MY SOUL DELIGHTS (2008): Collection of deeply spiritual poems that enable the reader to discover inner peace and joy.
ROYAL LUMINOSITY (2011): A collection of poems co-published with poet Mary Emeji, for Prince William and Princess Catherine. A special copy was sent for the royal wedding on 29th April 2011.
To purchase Alan's books, please contact him via email alanrrainer@hotmail.co.uk
ISABEL CASEY - POET / SCRIPT WRITER
Isabel Casey graduated from the University of Sussex in 2002 with a degree in English and Media. She went on to complete an MA in Scriptwriting at Goldsmiths Film School in 2006, where she won the prestigious Olive Till Award and aided by the Head of the British Film Council, Stewart Till, completed her first script, "THE FIELD OF WHEAT".  This South London gangster story followed a reformed assassin as he fell  for the wife of his brother's killer and is driven back to extreme violence. Soon afterwards Isabel was commissioned by British producer Ray Burdis, for a remake of the hugely popular Breakfast Club, to be retitled, "THE FULL ENGLISH", and collaborated with leading British film actor Ashley Walters. 
For the next two years, and still in treatment process, Isabel wrote the complex and twisted, "JOHNNY MEET JOE", a terrifying allegorical sci-fi about a genetically modified man in search of his own dark double, only to discover it is himself he is looking for.  After taking time out of writing to carve a career in property development, Isabel has now returned to her first love of writing.
She is currently working on "LOVE LAWS", a trans-Atlantic rom-com, about a broke aristocratic Lord who tries to reverse his fortunes by transforming his sweet dappy daughter into an all-American babe on a crass U.S dating show.
Isabel also writes poetry; some of which are included in her scripts. Her passion for poetry is becoming more intense, as she is currently working on her very first book of poems!
 DOLLIN HOLT - POET

AUTOBIOGRAPHY:
Hi, my name is Dollin and I live and work in Luton. I work as an Adviser with the Department of Works and Pension. However, over the years I have been involved with charity work, culminating in the development of Caprecon, a community-based organisation founded in 2010, which is dedicated to peacebuilding, poverty reduction, humanitarian psycho-social interventions, refugee development, conflict resolution and management, mediation, restorative justice, peace and human rights education,  youth development and other related activities. I and a team of dedicated volunteers work mostly in Africa, supporting and empowering local organisations in Nigeria, Kenya, Burundi, Rwanda, Cameroon in capacity-building in a relation to the activities mentioned above. I graduated from the universities of East London and Bedfordshire with post-graduate degrees in Forced Migration and Refugee Studies (MA), International Human Rights Law (LLM) and Media Representation (MA by Research). My interests are mainly poetry-writing and performance, reading, music, film, cinema and the martial arts. My approach to poetry writing, with due respect, is free style; unencumbered by the rigidities of tradition and rules. In other words, I write as I feel. I hope to publish my written work in the near future. Well, if I can find the time.
Hope I have not bored you."

TONNY SAMMY - POET
Tonny Sammy is a young devoted Christian, who attends St.Vincent  Roman Catholic Primary School, Luton. His hobbies include writing poems, football, basketball, swimming and golf. Tonny trains for football at Brazilian Soccer Schools. He has so far achieved four Basketball trophies and one Football medal. Tonny's love for poetry has led him to write more and more poems, and he's aiming to publish his first book of poems this year! This young poet is not limited by his age, as he says in the following excerpt from his poem 'Age, age,age' -
"I am not very, very old
So you might find me searching for gold,
But my age will eventually pass
Then you will find me cutting grass."
THERESA RHODES - POET
AUTOBIOGRAPHY:
"I was born in Luton and have lived here all my life. I went to Sacred Heart Junior School and Ashcroft Senior School where my love of poetry started. In my late teens I wrote several poems whilst spending many spells in hospital – the words seem to come naturally during the peaceful times and the more difficult times. I did not write for many years and have only just started writing again over the last year or two. I feel that you can never force a poem. The words have to come naturally and hopefully when you have a pen to write them down or something to record them onto. As I often write my poems to be read out loud, sometimes writing them down is not that straight forward. My favourite poets are John Betjeman, William Wordsworth, John Longfellow and many of the other classic poets. I have had one poem published in an anthology by Anchor Books but as yet have not had any published. It is possible that one day I would like to make a recording of my poems rather than publishing them in a book but have yet to look into how to go about this. If I did a recording then it could be available for those who do not have access to written material as well as those who delight in listening to audio versions of poetry.
I work for NHS as a Health Trainer enabling people to improve their lifestyles and have a strong faith in the Roman Catholic Church regularly attending St Josephs and Our Lady Help of Christian Churches. In my spare time I am a folk dancer and a member of Toastmasters public speaking group."
NEIL ROWLAND - POET/ AUTHOR

Neil is a librarian at Luton Central Library, and an active member of Luton Poetry Society. He has always had a keen interest in poetry, and having been inspired by poetry events at LPS, he has begun writing his own poems. Neil is aiming at producing a poetry collection as time goes by.
BOOKS:
'UNDERGROUND RIVERS' (2012)
'THE CITY DEALER' (2013)
'NOAH'S HEART' 2014.
Neil's profound and inspirational Christmas poem (dedicated to Mary) is published on our Poems Page.
SAMANTHA NEWBURY - POET/ ARTIST
Samantha Newbury is a life-long Lutonian and has been writing poetry off and on for nearly forty years. It keeps her sane and allows her to comment on everything from world events to the slightly sinister nature of cold fish fingers.  Favourite writing venues include long distance train journeys, quiet corners in pubs and hospital waiting rooms.  She is also a keen craftswoman, photographer and artist, and is currently learning to weave.

Her work has been shortlisted/placed in a number of competitions including The Plough Prize and has been published in a variety of magazines and anthologies.  Her first poetry collection 'FINDING MY TAIL' was published by Indigo Dreams Publishing in June 2013. Her website is http://www.smanf.com/
  JAMES HENRY - POET
 James Henry was born in the English Bard's home county of Warwickshire.  Training as a teacher followed in Liverpool.  Since graduation, James has worked in the Home Counties area, principally as a teacher of pupils with special educational needs, and also as a driver, bookseller, adult education tutor, supply teacher and temporary local authority officer.
 
James' literary output includes: a chapter in a special education textbook; research for a chapter in a special education management textbook;  in contributions to the Times Educational Supplement; a poem to be published in the 'Black Bright' magazine; published letters to the local papers, including support of 'Save Luton Libraries' campaign; and a collection of poems and articles in 'The Collected Works of James Henry - Volume 1'.
 
James' output in draft includes: a thriller; a future fantasy/science fiction adventure; and a history of music in Luton.  His leisure activities include reading, collecting second hand books, listening to music (radio, vinyl and CD only) and walking.
PAUL ROGERS - POET
AUTOBIOGRAPHY:
I specialise in sculptures made from natural products such as wood, fungus, bark and seed heads. My works range from 10cm. to 2.5 M in height and can be said to be "conceptual". My art reflects the issues of everyday life, the questions, the concerns, the trials and the joys. I usually support each piece with a self-written poem which helps the viewer to further understand the thoughts and concepts behind the piece. All these works are free standing and 3D in nature. Much of my work is made for outside spaces and is therefore finished with varnishes which prolong the life and enhance the finish of those pieces. They are quite robust, yet in contrast I also use seed heads, dried petals and a range of dried flora to tell stories.
I source products from fallen, rotting timber and plants which, out of their growing season are dormant and fall away as new growth is produced. Sculpting paint on glass using discarded, unwanted products also provides me with an additional outlet for my creativity. A range of paint types are used, emulsions, acrylics and also inks enabling different textures which compliment  each other.
I am a chef, lecturer and trainer by occupation, allowing me opportunities to develop my art "on the plate"; now semi-retired I find these opportunities in the forms above.

I have many other pieces that can be privately viewed in my home and garden in Aley Green near Caddington. To make an appointment, please call on 01582 967119.

PATRICIA J. MORRIS - POET
Patricia J Morris was born in London. Her love of the written word began early when she wrote a Christmas Carol for her school choir at the age of 12.  Since then she has gone on to write poetry, plays and songs. She says, "To me writing is a bit like breathing, it's something I have always done, and something I cannot live without."
She is currently working as an English teacher, where she is passing on her love of the English language to the next generation.
 CHRIS GEORGIOU - POET
Chris Georgiou is of Greek/Irish parentage. He came to Britain from Australia long ago -
for a year - and stayed on, returning there at intervals. He travelled
extensively during his working life in all manner of aircrafts, and made documentary type films on engineering subject. However, he is now retired and write poetry and short stories, for the pleasure of doing so. His first book of poems titled 'AMBIGUITIES' was published in Australia.
GWINYAI MASAKA - POET

Gwinyai Masaka is a contemporary poet and aspiring novelist who enjoys writing about everyday life. He is happily married to Elizabeth and they have been blessed with three boys. Gwinyai was born in Birchnough in Zimbabwe and he is  a second child  in  a family of  ten.  Gwinyai's  dad, Busayi was a policeman and it was mandatory for police personnel to be regularly  transferred such that  he grew up in  different  places such as Mvuma, Chivhu and Gweru.  Gwinyai trained as a teacher at an associate college of the University of Zimbabwe called Mkoba Teachers' College also in  Gweru.  He  then  obtained  a  B.Tech  degree  in  Education  and Management  through  Tshwane  University  of  Technology  in  SA  and obtained an MA at The University of Northampton in the UK. Gwinyai has had a career spanning many years as a primary and high school teacher,insurance sales representative and healthcare services provision manager and regional  manager. In his career Gwinyai  assumed middle to senior managerial roles both in education and healthcare as well as being a part-time chaplain at the University of Northampton.  His first collection of poetry publication by United-PC (2014) entitled: Shouting Silence-The crucifixion of justice is available for purchase on Amazon.
ADOLPHUS BURKE - Poet/ Guitarist
AUTOBIOGRAPHY: My name is Adolphus Burke I was born in the West Indies and came to England in the sixties. I start writing poem around the eighties, but before that I always find myself rhyming music, just by looking at things around me and the situation I'm in. I would try and write something about it I love soca music and I also learning to play the guitar, sometimes I sit down with friends and we would sing songs and have a good time.                                                           
WILLIAM SHAKESPEARE (1564 - 1616)

William Shakespeare is an invisible Member of Luton Poetry Society, and we usually start off our meetings with one or two Shakespearean Sonnets! William Shakespeare is as yet the greatest Poet that ever lived, for every student of Literature is bound to encounter Shakespeare at some point. This poetry legend is indeed a great inspiration to Luton Poetry Society and to several poets from all ages (so much that Mary Emeji has co-written a book with him titled 'TIMELESS DATE').
His Biography and Sonnets are available at http://william-shakespeare.info/