Mary Emeji is a talented lady poet and lawyer from Luton, Bedfordshire. She holds an LLB(Hons) Law degree and LLM in Commercial Law (with Distinction), both from University of Bedfordshire. Aside from her legal career, Mary has always had an ardent passion for poetry and began writing poems whilst high school; often reciting them in open events. Her first book 'THE BOND OF LOVE' was published in 2009, and other books have followed since: THE LOVE OF GOD (2010), 'ROYAL LUMINOSITY (2011), TIMELESS DATE (2012), FUNDAMENTALITY (2013), PULCHRITUDE (2014) and MY FRIEND THE SUN (2016). Mary has performed at various poetry events in Luton, Wokingham, London, Bedford and Brighton.
Mary was the featured poet in the Luton 'LIFE' magazine (February 2011 issue). She presented her very first book THE BOND OF LOVE to the Deputy Mayor of Luton - Cllr. Mohammed Farooq at the summer festival in August 2010. In October 2010, she was the featured Poet of Luton for the Black History Month, by the Luton Library/ Luton Culture. Mary has received Royal Acknowledgements from Her Majesty Queen Elizabeth, in respect of her four books 'ROYAL LUMINOSITY' (2011- dedicated to the wedding of the Duke and Duchess of Cambridge), 'TIMELESS DATE' (2012- co-written with William Shakespeare), 'FUNDAMENTALITY' and 'PULCHRITUDE' in 2014. Immensely encouraged by this, she continues to work hard at what she loves doing best - poetry! 
In June 2011, Mary founded the Luton Poetry Society, with the fundamental purpose of promoting fellow poets, and motivating upcoming ones. As the Motto goes "Bringing Poetry To Life", this group aims to extend the vibes of poetry to the lengths and breadths of Luton town, through poetry events. All who love to write, read or listen to poetry are very much welcome to join!
LUTON POET LAUREATE
Mary was appointed the Poet Laureate of Luton by the Mayor Cllr. Syd Knight, which was announced at the Luton Poetry Festival on 1st September 2012. Greatly satisfied by Mary's countless efforts to encourage poetry in Luton, the Mayor said of her, "I am very impressed with the amount of work Mary has done in a relatively short time to promote the work of poetry in Luton. We do need to raise the profile of our poets in Luton, and she has done a lot to make that happen." Mary describes her new appointment as 'a thrill' as she stated "I've always found joy in writing and reading poetry, which led to my creating a forum whereby Luton poets can come together and share their poems. I am thrilled at being made Poet Laureate, and will continue to do my best to promote poetry readings throughout Luton." She was one of the guest speakers at the annual Women's Day event hosted by the Mayoress of Luton at the Town Hall in October 2012, and has visited other branch libraries in the town to promote and encourage poetry. She held a poetry session at the University of Bedfordshire (where she studied), meeting with literary students and giving them a forum to perform their poems/ writings in October 2012.
On National Poetry Day (4th October 2012), Mary was the Resident Poet on BBC Three Counties Radio; talking about poetry, reading her poems and taking calls from local poets. Her poem 'Simplicity' was short-listed for the National Poetry Anthology Competition 2012 (United Press) and published in the Anthology 'A Gathering Of Minds'.  Her other poem 'The Angel Star' won the National Poetry Day Competition run by the Bedfordshire Libraries in October 2012, click to view: http://virtual-library.culturalservices.net/webingres/bedfordshire/vlib/0.books_reading/poem_week_all.htm. She was featured as Poet Laureate in 'Luton At Large' magazine in November 2012, in the University of Bedfordshire News in December 2012 ( http://www.beds.ac.uk/news/2012/december/graduate-appointed-poet-laureate-of-luton), and in Luton 'LIFE' magazine in January 2013. Mary regualarly appears on BBC Three Counties radio for poetry talk and recital, and her poetry work appears in local newspapers and magazines including Luton News, Luton At Large, University of Bedfordshire News, and Herald and Post Newspaper. Please visit the page 'PRESS RELEASE' above.
Mary was one of the guest speakers chosen by the Mayoress of Luton, Mrs. Imeda Knight for the International Women's Day event on 8th March 2013, at the Luton Borough Council Chambers, and Her Majesty's Lord-Lieutenant for Bedfordshire - HELEN NELLIS greatly commended her poetry work. Already featured in the religious poetry anthology 'I BELIEVE' (United Press 2013), Mary was chosen by United Press as one of the top ten poets in the UK, and published in the anthology 'TEN OF THE BEST' 2013. She was also featured as the Resident Poet Laureate on BBC Three Counties Radio on 14th April 2013 to celebrate the National Poetry Month, as she partook in the task of writing a poem a day for the whole month! On National Poetry Day (2nd October 2014) Mary was invited to inspire over 300 students at Ashcroft High School with her poetry, which she very much enjoyed doing!
AWARDS:
Mary received a mayoral award for her 'outstanding contribution to poetry in Luton' in April 2017. She is pictured with the then Mayor of Luton Cllr. Tahir Khan, who had been the special guest at the launch of Mary's book 'My Friend The Sun' available to buy from the 'WEB STORE' page above.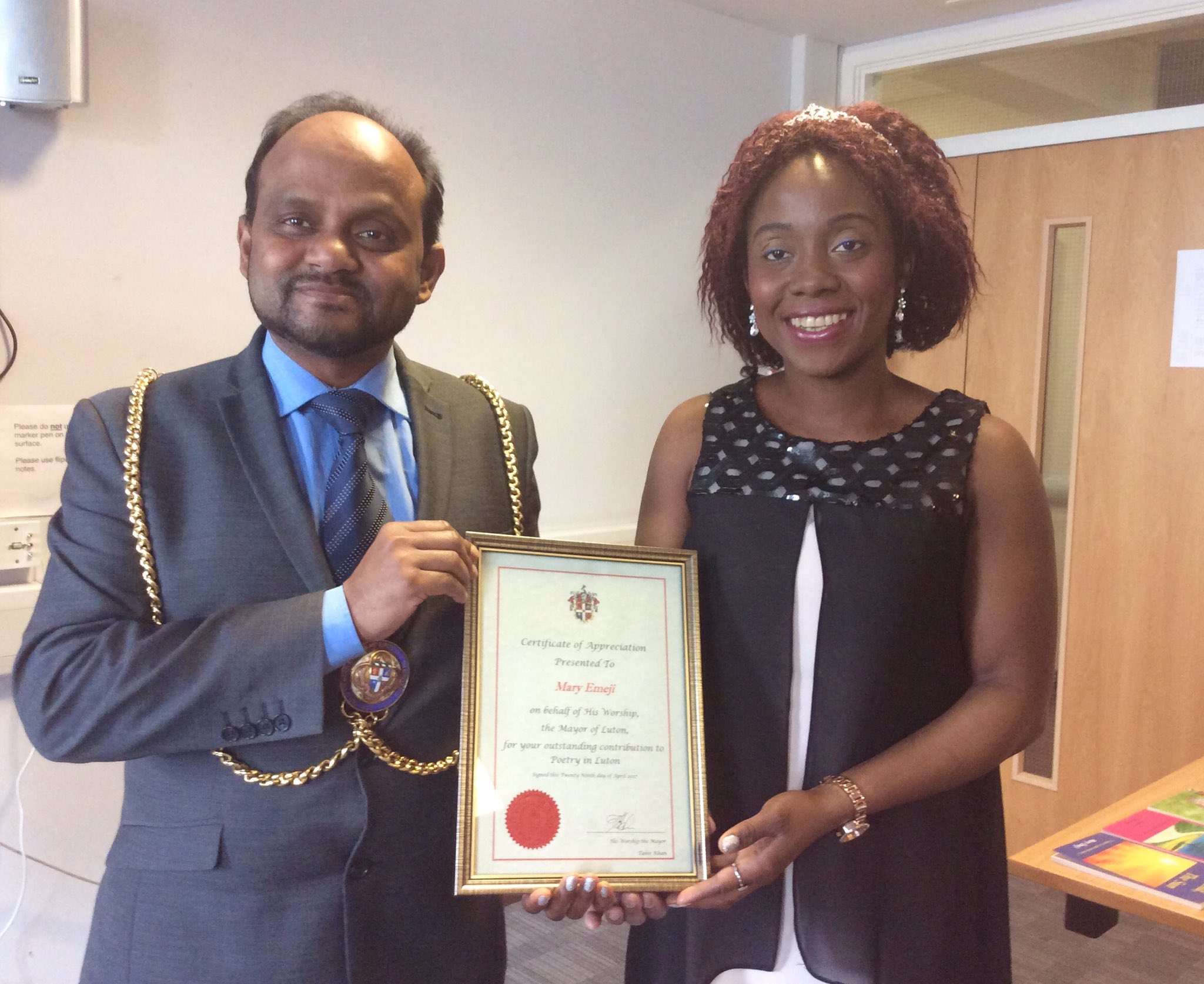 In March 2018, Mary received the High Sheriff's Citizenship award presented by the High Sheriff of Bedfordshire Vinod Tailor, in recognition of Mary's "Great and Valuable Services in the Community."
In June 2021, Mary won the Luton's Best Adult Achiever Award, presented by Love Luton.
  More photos...

 {Mary and Her Majesty's Lord-lieutenant HELEN NELLIS in March 2014}
{Mary and the Mayor of Luton Cllr. SYD KNIGHT at LPS Christmas Party 2012}
{Mary, Her Majesty's Lord-Lieutenant HELEN NELLIS and Mayor of Luton Cllr. SYD KNIGHT}
{Reading at the Luton Borough Council Chambers on International Women's Day 2013}
{Presenting her book 'Timeless Date' to the MP of Luton North - KELVIN HOPKINS} 
{Mary with Mayor of Kempston - Cllr. ADRIEN BEARDMORE and Mayor of Luton Cllr. SYD KNIGHT}
 Please click on the next page to meet Mary's books! Happy Viewing :)